Grm Primary School is located in Novo mesto, a town in Southeast Slovenia. Our school currently welcomes 850 pupils aged 6 to 15.
With the next film, titled A BUSHMAN ("GRMČAN" is a pupil of Grm Primary School) DOESN'T GROW BEHIND EACH BUSH, which was made on the occasion of the 40th anniversary of our school, in 2011, we would like to present our Grm Primary School to you. The word GRM means a bush or a shrub. Our pupils star in the film, together with our former pupils, who tell us how Grm Primary School has affected their lives. They highlight the values ​​they find important: sportsmanship, perseverance, flexibility, dedication, teamwork, rhythm and energy, teacher support, goals … At the same time you can observe the school premises: the classrooms, the gym, the swimming pool, the lobby, the kitchen and the school canteen, the staff room and various activities taking place at our school. The pupils starring in the film are dressed in diverse costumes, with which we wanted to capture a piece of the rich history of Novo mesto. You can see a prehistoric man, the Princess of Hallstatt, a Roman soldier, Rudolf IV of Habsburg – the founder of Novo mesto, the local poet Anton Podbevšek, and the painter Božidar Jakac, the Olympic champion Leon Štukelj, who won several medals as a gymnast at the Olympic Games in Paris in 1924.
This year our school is celebrating its 50th anniversary. A new presentation video is being made, so let's take a look at some fragments showing the school pulse of nowadays.
We are active in the field of Erasmus projects and this year we received the Erasmus accreditation. Therefore we would like to expand our international cooperation and establish new partnerships with schools from other countries.
Our main priorities are:
development of ICT competences (of teachers and pupils, especcialy ones from disadvantaged backgrounds)
cross-curricular integration, cooperation of teachers from different fields to ensure better quality of teaching and learning
team-teaching to promote inclusive learning in mainstream school for children with special needs, Roma children and chidren with migrant background – innovative ways of leaderships in schools to enhance quality of teaching.
Welcome to address request or any questions to stasa.sabatucci@guest.arnes.si (Staša Sabatucci).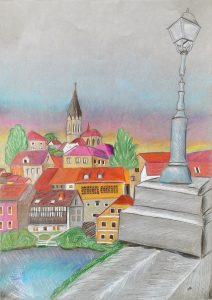 Grm Primary School is located in Novo mesto, which lies in the embrace of the Krka river and it is the seventh largest city in Slovenia. It is the economic and cultural centre of the Dolenjska (the Lower Carniola) region, which is surrounded by wine-growing hills on one side, where we produce our typical wine Cviček, and by the mysterious Gorjanci mountains on the other side. The Krka River flows through the Dolenjska region, creating small islands on a special rock near Novo mesto. There is the Otočec Castle on one of them – the only water castle in Slovenia. Thermal springs are also an interesting feature.
Welcome to Novo mesto: